My friend Stefanie, over at The New Healthy, hosts a link-up on Saturdays for people to share what they've done to work out. I've only linked up once before, but I thought it would be a good day to chime in again (even though I'm a day late). Since I've been super active—and motivated—and have new goals—and a new trainer…. it just seems like the thing to do!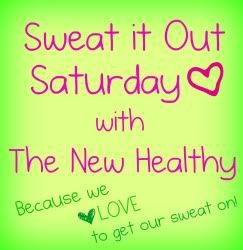 Sometimes it's just the perfect combination of things that help a person to get re-focused and re-motivated for getting in shape.  I really enjoy low intensity activity (exercise), but there's nothing like an intense workout. Over the past…long time, I had myself convinced that low intensity and low impact were giving me all the results I wanted. There are a lot of reasons for that, and it started when I hurt my knee while running. I'm re-evaluating that approach currently.
My activity over the last week ramped up and down (I think with a degree in exercise science, I'm pretty good at not overdoing it—because it would be easy to get caught up and cripple myself with soreness). I can say that today I am fatigued, but not sore!
Here it is:
Monday: 30 min weight training/30 min cardio
Tuesday: Personal Training session (first ever). I'd describe it as High Intensity Interval Training (HIIT)– with all kinds of fun equipment and moves (tractor tires, boxing, a basketball…slightly scary, but fun!). 30 min
Wednesday: 30 min weight training/30 min cardio
Thursday: 30 min HIIT cardio on the AMT
Friday: 60 min yoga, 15 min Equalizer workout
Saturday: 75 min heated power vinyasa, 30 min HIIT cardio
Sunday: 30 min HIIT cardio, 90 min speed walk
The results: My hips are a little tight. I had to take a nap today (which I'm ok with–I got up at 5:30 to do work). I meant to use the Equalizer later in the day today—it might happen for 5 minutes or so (that still counts, you know!). I'm tired, and have work to do, but I'm happy with what I did already–a good mix of high and low intensity (and the walk was with my Mom, so that was totally multi-tasking on getting some quality time in!).
I also went in my infrared sauna every day over the past week except one. I like to go in for 60 minutes and sweat buckets. Sometimes I read, sometimes I do nothing. I usually listen to the Felicity soundtrack. Note: An infrared sauna is different than other saunas—you shouldn't stay in a regular sauna for that long!
Note: I'm not a water drinker. But When I work out, I drink 24oz during and after, and when I go in the sauna, I drink 24oz after.
Sweating is Awesome!
It's cleansing. It signifies increased metabolism and a rush of happy chemicals. Sweat everyday. Your life will be better.
Here's the HIIT workout I did today.
Joe and Carrie (his sister) ran the Flower City Half Marathon this morning, and I'm really excited for Carrie—it was her first one, and she ran it in 1:45! Joe didn't PR, but 1:27 was ok with him (his words). I admire my runner people—and I'm a little jealous. In the past, I spent lots of time running by myself early in the morning, but I think I mostly did it for the atmosphere of the Erie canal path, the steam coming off the water and the turtles (not the geese—they scared me a little). I'm glad I ran, because I feel like I can relate to runners. I'm sad that my knee won't let me have the choice anymore (and frustrated that there's nothing technically wrong with it except stabbing pain). But I will admit that the competitive aspect of running is terrible for me—I don't like the pressure and anxiety of races, but I do miss being able to do that stuff with Joe. There's this crazy running community around here–one day a guy pulled over to talk to Joe because he had seen him running at the Y and wanted to tell him about a running group. I don't mean to be negative, but where I live is not full of friendly people (they're a bunch of grouches if you ask me), but the runners have this wonderful community. I suppose it's kind of clique-y and exclusive, but it's good for the people in it!
I'm lucky that I am being able to create the type of positive community I want/need in other areas, just not where I live. My three new projects are creating three new communities for me (or at least a few new friends with whom I have things in common). I'm so lucky! I can't wait till I can tell you more about them!
How was your weekend?
Did you sweat this week?
Do you have friends with whom you have things in common? Or a community like the running community? Sometimes I wish this blogging community was more two-way. I know a few people who read my blog from your comments and emails, and I'm lucky if you have a blog I can read and comment on too. I can look at how many people visit my blog (I forget to do that most of the time, but when I do it's a reminder), but I don't know who most of you are. I wish I did 🙂