At the risk of sounding a little (or a lot) repetitive…I've been really busy. I had to teach a two-hour lecture yesterday about sexual and reproductive health to a bunch of 20 year-olds. I'll be honest with you, it was not high on my list of things I wanted to do…ever. In general, I over-prepare for my classes because I never want to (1) run out of things to say (as if that's possible!), and (2) I don't want to have any awkward moments when I stumble over explanations of things like coitus interruptus or spermacidal lubricant. I'm sorry–I had to overshare a little so you could feel some of my pain.
Honestly, the entire class went really well. The problem was with how I somatically experienced the anticipation of it—in other words: I let the stress get to me, and it totally kicked my ass.  I couldn't relax after class because I had another lecture to prepare for the evening (thankfully it was about vitamins).
Have I mentioned I want the semester to be over?  I'm not going to mention it again. I swear. My goal is to turn my nervous intense energy into positivity. If I help other people do that, I need to be able to do it myself. When I get nervous, my head gets all cloudy—and I hate that feeling.
So, the theme for me for the next five weeks is Clarity. I'm not setting goals, but I'm setting an intention.
Focus. Calm. Productivity.
Do you have an intention for how to conduct yourself in a general day-to-day way?
I usually recite things in my head, mantras if you will, about things going smoothly with effortless ease.  But I need to be a little more specific right now, or the To Do List will get the best of me. It seems so silly that I was so stressed out today and now it's all over, and all of my students probably already forgot about the class, and most likely didn't care or listen very well in the first place.
My first attempt at Clarity resides in the Aloe Cooler. It's not really aloe cooler weather here yet, but I'm being optimistic!  You should definitely try this.
In the blender:
12-16 oz water or coconut water
1 big chunk of aloe gel (filet the aloe leaf and throw in a chunk, but not too much—it acts like Draino if you overindulge!)
handful of ice
juice of 2 limes and 1 lemon
stevia to taste
Blend—it gets frothy on top and so amazingly refreshing. Aloe is great for acid reflux and toning your digestive tract (but like I said, more is not necessarily better!). I invented this last year in the summer, and the most satisfying time to drink it is with your mom, while sitting in the shade, after a really sweaty walk on a hot summer day… Just a suggestion 🙂
I'm planning to post a series of purifying drinks over the next week or so. I need to clarify and purify my mind, and my body could use a little tune-up too. Ingredients to come: grapes (with seeds), watercress, and more!
I also have a Sun Butter giveaway coming up in the next couple days!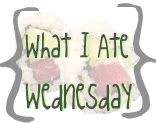 For WIAW…
This is mostly Joe's food, but he was really happy with his tuna and his antipasto salad, so he offered for me to take pictures of them 🙂
Do you have any ingredient ideas for getting clarity?