Dinner Dates – Lately, I've been all work and not much play. It's ok for now, but I'm happy to say I have three dinner dates this week. One was on Monday with my oldest friend Kyle, another is tomorrow with a more recently met friend Lisa, and the third is with a blogger friend Katelyn whom I have not yet met!
Sweet Potatoes – I am not a sweet potato person. Or, I wasn't. Until yesterday. I was going to make brownies with a mini sweet potato (well, just one brownie–the mini sweet pots were bought strategically for Portion Control). Yesterday, as I mixed ingredients, I ate all the batter before I could morph it into a brownie. Today, before I even got to adding chocolate, I made the most awesome and simple thing I've ever tasted in my life. It rivals (beats?) avocado pudding.
Chop – Lately, all my salads look like this. Chopped into small pieces with my mezzaluna. I swear these salads are better than regular ones.
Hometown – Last time Matthew was here, he convinced me he needed new hiking boots (I'm a sucker for buying my little man anything he needs. Second grade is rough, ya know? Plus, he knows how to play me). We tried every place I could think of in Rochester, and he suggested the mennonite store in Benton Center. I begrudgingly stopped there on my way to drop him off at home (I am a chicken about going to places like that). They had the exact hiking boots he wanted from Dick's sporting goods website…only they were $10 cheaper. Who says you can't buy clothes in Penn Yan?
I also stopped at a little bulk/health food store in the country called Catlin's. It's where I get Dandy Blend (p.s. I bought an extra one to give away soon). I bought a sprouting lid, and dry organic chickpeas. Coming soon: sprouted hummus and sprouted socca. I know, you can't wait—me neither!
Variety – I ate chocolate avocado pudding everyday last week. For the past two days, I've renewed my relationship with Vega products, and instead of chocolate, I added a scoop of Vanilla Chai Vega and a tbsp of Berry Shake 'n Go Vega. It's awesome, albeit ugly.
New – I had the urge to buy new things in the produce department yesterday.
Let's just look at this again for emphasis.
Do you like sweet potatoes? I really am not a fan of the traditional sweet potato dishes (not really even the fries). But this…total love.
Do you sprout things? Do you chop your salads?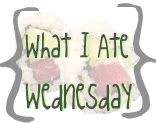 Go check out what everyone ate!