I really wanted to link up to Jenn's What I Ate Wednesday (WIAW) link party this week, so it helped me be motivated to try and bring a little variety into my (food) life.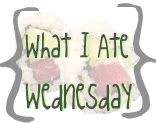 I met a friend on Monday at Breathe in Pittsford (the other Lisa B!) for a little browsing and a green juice. I didn't photog the juice (y'all know what juice looks like—and for some pretty ones, go look at Spabettie's pictures!), but it made me motivated to juice the loveliness in my fridge.
For some reason, I'm also motivated to make some sprouted nut butters—oh yes, my juicer will do that for me too!
It's March. Do you know what that means?
Last, I made a skillet socca pizza that was ah-mazing! I used Rice Shreds for cheese instead of Daiya, because I think tastes better. It's a departure from my anti-candida diet. But I was celebrating! I've decided I need to splurge occasionally so I do not implode or feel restricted (I really haven't felt restricted at all so far).
On Splurging. I stopped at Solia, a clothing store, on my way home from Breathe, and I could not resist a new pair of William Rast jeans. I will need new shoes now. And a shirt. It's a slippery slope!
I'm looking forward to getting very focused on my work and a project today and tomorrow night, so that I can be a little bit carefree on Friday (initially I thought I'd have free time on Thursday too…a little too optimistic I guess)!
How is your week shaping up?