First Thing:
If you're here for the tuna recipe, which by the way, is not an endangered species, go get it here. Although a very specific (tipsy) public figure decided to trash me on twitter for posting a tuna recipe (apparently, promoting more veggies and less tuna is not sufficient in saving the waning tuna-to-be-canned population …that isn't really waning), I still stand by my research supported viewpoint on the benefits of eating high quality tuna outweighing the costs for people, when they choose to eat it. My thought is that I love for people to make informed choices, and whether your choice is pro- or con- tuna or other animal products, it's the right choice if you're informed in making the decision! No judgment here, friends.
Now on to the meat of the post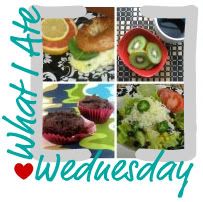 A few nights ago, Katelyn came over and we made dinner—I'm pretty sure she is my food twin. We spend more money at the grocery store for one meal than I often spend in four days on my own. This, my friends, is not a bad thing. It's the opposite!  Consider this: My friend Ali and I went to dinner on Saturday night to celebrate her birthday—at a lakeside restaurant on Keuka Lake. The ambiance was nice, the company was great…and the food was partly awesome and partly just taking up space on the plate. We concluded that (1) we wouldn't tell anyone how much money we spent on that dinner, and (2) next time we'd just go to the store and make what we wanted at her house.
So when Katelyn and I got together, we were actually together long enough to have two meals, and it went something like this:
I got the idea on Twitter from Gina at CandidRD:
Here's the actual Link for the recipe I based my creation on. Kids Eat Right.
P.S. I love the idea of kids eating this, but I don't know any kid in my life who would!
This is a very easy recipe.
2 avocados, diced (not mashed)
10 seeded grape tomatoes, diced
2 cups baby spinach, chopped into tiny pieces
1/4 cup diced onion
2 cloves garlic (minced)
juice of one lemon (or a little less)
1/2 tsp cumin
dash chipotle powder, or chop finely one jalapeno pepper
5 Dried figs (3 fresh figs may be better, but I didn't have any), diced
Himalayan crystal salt (or sea salt) to taste
Combine all ingredients. Serve with crackers or whatever you like.
We made sprouted mung bean soccas.
This was amazing!  If you like avocados and guacamole, I think you'll like this–the savory/sweet combo is pretty subtle, and it really worked here.
Later, when we were ready to eat again, Katelyn and I made crab cakes and salad.
For the recipe (which is so easy it's ridiculous!), click Here. Or check out Lisa's post about them over at Healthy Diaries.
In addition to our main courses, Katelyn also made cookies that turned out awesome (and used the NuNaturals Stevia baking blend for the sugar). I'm sure she'll post the recipe soon?  We also did resist splurging on Zevia by making our own version.
Sparking water (seltzer—which is really darn cheap for 2 liters…and we may or may not have gone through the entire thing!) plus flavor (cherry extract was best, but lemon juice, pomegranate powder, Navitas Naturals Acai powder, or whatever you like), and liquid stevia. Voila—instant soft drink! Frankly, the pictures did not look pretty, but you can imagine what it looks like. You could add herbs and fruit of your choice to spice it up a bit too!
Would you rather eat out for the ambiance or eat in so you can make exactly what you want?
What do you think about people pushing their ideas about food choices on others? It just seems like there is a fine line between promoting ethics in food choices and attacking people for what they choose. I, personally, respect any person's choice, especially if the decision is informed and made consciously and not just as a result of "going with the flow."